FACTS OF LIFE FIRST SEASON GIRLS
The lost girls from the first season of the show. The show was re-tooled in the summer of 1980 because of low ratings (ranked #74); Felice Schachter, Julie Piekarski, Julie Anne Haddock, and Molly Ringwald were all dismissed from their roles.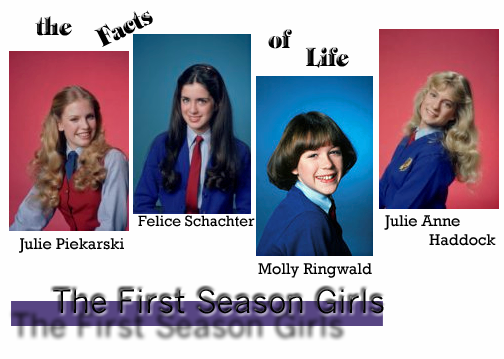 FELICE SCHACHTER
played Nancy Olson during the first season of The Facts of Life. She was born November 17, 1963 in Queens, New York and auditioned for the role of Kimberly on Diff'rent Strokes but didn't get the role as it eventually went to Dana Plato. The producers, however, liked her and cast her in the spin-off, The Facts of Life. Felice was the first girl to be cast in The Facts of Life and the first to be released when the show was re-tooled and down-sized after the first season. She was also in the 1982 movie Zapped! which starred Scott Baio. She made guest appearances on the sitcoms Alice in 1980, 'Love, American Style', and The New Monkeys.

She has worked on such film and television projects as Magic Island, After The Game, the pilot for JAG, Uncle Sam, Twilight of the Golds, High Tide, Born Free, The Citizen, Waiting For The Monkeys, The Citizen, Waste Land, Jackie, Knockaround Guys and 30 Years to Life. She was the production coordinator for the series Law & Order: Special Victims Unit. Schachter also did sports broadcasting for CBS Sports and PRIME, mainly with NHL assignments.

Felice had stated that she had a lot of input for her Nancy character on the Facts of Life. Being boy crazy at the time, writers and producers thought it would be perfect for her to do this for her on-screen role. Nancy had been dating Roger Butler throughout the entire series run, and in a 1987 reunion episode before their reunion she announces she and Roger will be having their first child together.

---
JULIE PIEKARSKI
played Sue Ann Weaver during the first season of The Facts of Life. Julie Piekarski was born January 2nd, 1963 in St. Louis, Missouri. She was in the movie The Miracle of Kathy Miller in 1981 and in 1977 was in the New Mickey Mouse Club with future co-star Lisa Whelchel (Facts of Life). She also appeared in a 1983 episode of Three's Company, 1982 episode of Quincy, M.E., and the 1983 ABC Afterschool Special 'Carousel'. She did commercials for McDonald's and Taco Bell among others. She is sometimes credited as Julie Piekarski-Probst and worked as the entertainment reporter for KPLR-TV in St. Louis for about a year between 1986-1988. She also did some local theatre there. She is married with three children currently residing in her hometown St. Louis. Her husband is a dentist and is named John Probst. Julie's kids are Patrick, Jaquelyn and Christian.

Her character on the Facts of Life was from Kansas; popular, smart, pretty, and always in competition with rival Blair. She had a couple recurring seasons after being one of the girls cut from the first season.




---
JULIE ANNE HADDOCK
played Cindy Webster on The Facts of Life. (born April 3, 1965, Los Angeles, California). Haddock's character was quietly written off of The Facts of Life after the first season. The producers explained they wanted to take the series in a new direction, and fired more than half the original cast. Although no longer a series regular, Haddock continued to make a limited number of guest appearances on the show during seasons two and three, for the sake of continuity. Her final appearance on the show was in the season eight episode "The Little Chill" (1986); this was also her last listed acting role.

She is also known for her appearance on the Wonder Woman television series as the super powered girl, Amadonna, in the episode The Girl from Islandia and as Robert Duvall's daughter in the movie The Great Santini. She also appeared as Melinda Mulligan, the daughter of Lawrence Pressman and Elinor Donahue on the short-lived NBC series, Mulligan's Stew, in 1977. In the 1983-1984 season, she appeared on NBC's short-lived Boone starring Tom Byrd and Barry Corbin.

Since then Haddock has retired from the public eye. She currently resides in California and sings in her church under her married name Julie Anne Becker. She was briefly interviewed for the DVD release of The Facts of Life and explains that she also gives her time to fundraising.

In 2008, Haddock, along with Molly Ringwald, Felice Schachter, and Julie Piekarski, was nominated for a TV Land Award, in the category Favorite Characters Who "Went Missing" (Source: Wikipedia)

---
MOLLY RINGWALD
played Molly Parker during the first season. Molly was born in Roseville, California on February 18th, 1968. Her fathers name is Bob Ringwald and mothers name is Adele Ringwald. She graduated high school in 1986. The network retooled the series for season 2, and Ringwald lost her spot. Having appeared in the John Hughes films Sixteen Candles (1984), The Breakfast Club (1985), and Pretty in Pink (1986), Ringwald is part of the "Brat Pack" and she was ranked number 1 on VH1's 100 Greatest Teen Stars. She has also played Anne Juergens in the ABC Family show The Secret Life of the American Teenager.

Ringwald was married to Valéry Lameignère, a French writer, in Bordeaux, France, on July 28, 1999; they divorced in 2002. She married Panio Gianopoulos, a Greek-American writer and book editor, in 2007. They have a daughter, Mathilda (born 2003), and twins, Adele and Roman (born 2009). Her pregnancy was written into the storyline of The Secret Life of the American Teenager.

In early 2013, Ringwald released Except Sometimes. The album is a jazz record. It follows a tradition in jazz for the Ringwald family set by her father. "I grew up in a home filled with music and had an early appreciation of jazz since my dad was a jazz musician [pianist Bob Ringwald]. Beginning at around age three I started singing with his band and jazz music has continued to be one of my three passions along with acting and writing. I like to say jazz music is my musical equivalent of comfort food. It's always where I go back to when I want to feel grounded," Ringwald said in a statement.[20] It has been confirmed that Ringwald will have a role in the upcoming movie Jem: The Movie. (Source: Wikipedia)

---
Click here to return to the cast biographies page.